Use Denver Real Estate Trends for the Most Useful Investment Advice
Savvy Real Estate investors move quickly while considering their investment fully. Local market trends provide the most reliable real estate investment advice any would-be investor could ask for…just consider the data, then act swiftly! Denver's go-to real estate trend analysis tool is the quarterly price change map. It provides an at-a-glance overview of useful and timely pricing movement by neighborhood, allowing investors to select areas of interest for potential rental properties or fix and flip homes. But let's be clear, there's no magic square on the map highlighting the ideal investment location with low purchase prices and high rental capabilities or resale values. However, by carefully considering the information at hand and following our real estate investment advice, you're sure to make a highly informed decision:
For more information about investment opportunities by neighborhood, Contact Us and we'll send you our FREE downloadable neighborhood market map.

It's Your key to Real Estate Investment Advice
Find a neighborhood with home prices on the rise
It may seem counter-intuitive… you may be thinking; but don't I want to buy a cheap property! Yes, your goal is to find an affordable property. But, you want this property to be in an improving area. You'd like to invest in a property where prices are on the upswing! With a national average of a 6.3% increase on single family homes yearly, you'd be well-advised to select a neighborhood with a 7% increase or higher (coded yellow on on the Price Change Map). For example, Denver's Valverde neighborhood is located just on the outskirts of some of Denver's most popular neighborhoods and saw a 21% average price increase! This price change percentage codes the neighborhood in that lovely emerald on the price change map, while the average home price remains well below the neighborhoods just east of it (almost half the state average and even farther below Denver's swanky neighborhoods).
On the other hand, you might consider taking an approach of finding a cheaper property in a more "expensive" neighborhood. Though this approach takes some scouring, you're likely to see a swifter profit. For example, Hale has seen an 11% price increase (coded as light green on our map based on this percentage). Although the average home in this neighborhood is almost $100,000 above the state's average, we can see that this neighborhood's popularity is continuing to grow! Purchasing a "rough" amongst the diamonds in this neighborhood could be quite lucrative.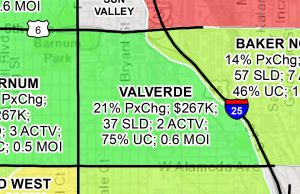 Consider MOI (months of inventory)
A balanced market shows 6 months of inventory. With Denver's inventory shortage, it's no surprise that most up-and-coming neighborhoods make do with less than one month of inventory! This is where nimble action comes into play – once you find that affordable property in a neighborhood on the rise, make an offer quickly and assume you'll have to pay over ask. Don't worry, this doesn't necessarily mean your purchase won't be profitable. It's likely evidence that you selected a popular part of town.
Look at the center of the city like a radiating hot spot
Picture Denver as an oversized pot of soup placed atop a small burner. If you were to let this soup heat over a low flame without stirring it, the center would begin to simmer while the edges would remain cool for some time. Eventually, the heat would begin to radiate out toward the edges.  This pot of soup is Denver, with the bubbling portions representing Denver's pricy living locations. You may look at Cherry Creek as the very center point of the pot… bubbling fueled by a skyrocketing price change (31%) and an outrageous home price average ($1,876,000). That "heat" is shared with surrounding locations as home buyers flock toward the area while unable to afford to live right in the heat. Of course, hot spots have the potential of cropping up anywhere, but historically, home values have increased following the radiating model.
In order to put this metaphor to use, look at the map to determine where the "heated" radius ends, and attempt to acquire a property just outside that radius – given that the "heat" continues to radiate, you'll benefit from rising home prices in your selected neighborhood.
Compare Cost & Profit
This suggestion is an oldie but a goodie but take our real estate investment advice: above all else, you'll want to compare your expenditures to your anticipated gross profit in order to evaluate the cashflow potential of your new purchase. Work with a real estate agent who is experienced in investment purchases and consider all of the real estate trend data. If you expect to make a profit based on these numbers and you've taken the above suggestions into account, you're poised to profit from Denver's real estate market!
Download the Summer 2017 Denver Price Change Map for free by clicking 
HERE
!