Every year, without fail, hurricane season takes a heavy toll on coastal cities across the globe. In America specifically, the South East and Eastern coasts have been consistently affected the most by tropical storm activity. One of the most notorious storms, Hurricane Andrew, caused $27 billion dollars of damage and claimed 26 lives when it swept across Florida in August of 1992.
In August of 2005, Hurricane Katrina disrupted the lives of millions as the impact created over $161 billion dollars of damages across Florida, Louisiana, and Mississippi.
More recently, Hurricane Florence devastated North Carolina and other eastern coastal states after making landfall near Wrightsville Beach, North Carolina on September 14 (2018). To date, Hurricane Florence has claimed 36 casualties and created an estimate of $17 billion to $22 billion dollars in property damages.
Locally, however, Hurricane Florence's impact will be much greater. While we are not yet aware of how North Carolina's local economy will be impacted in the short or long term, we can make inferences based on past trends in the housing market.
 Picture courtesy of weather.gov.
Short Term
The most devastating effects on the housing market arrive almost immediately before and after a hurricane. Unsurprisingly, the market is indefinitely put on hold in all areas that are touched by a storm. Buying and selling a house is put on the back burner as people work to barricade the houses they already reside in.
Within the next few months, as stores begin to reopen and people begin to return to their everyday lives, the market returns to almost exactly where it left off.
The exception is cities and towns that are directly hit by the storm. For example, after Hurricane Opal hit the Florida panhandle in October of 1995, home sales in Fort Walton Beach were down 29 percent that same month. Panama City, which was also directly hit by Hurricane Opal, saw a sales decline of 31 percent.
In contrast, the state of Florida as a whole saw home sales increase by eight percent during the month of October, despite the hurricane. This is conveyed in the graph below:
Another similar case, also in Florida, entails the towns of Ft. Pierce and Port St. Lucie, which were directly hit by Hurricanes Frances and Jeanne only three weeks apart in September of 2005. The National Association of RealtorsⓇ (NAR) conducted a study on the impact of these hurricanes. The results follow the pattern of house sales months after a hurricane: September sales in both cities decreased by 48 percent, and dropped again in October by an additional 22 percent.
Conclusively, what is most impacted by a hurricane in the short term is the sales volume of houses in the regions most affected by a hurricane. The Florida study by NAR concludes that, "… housing [sales] activity returned to pre-storm conditions generally within 3-4 months after the hurricanes."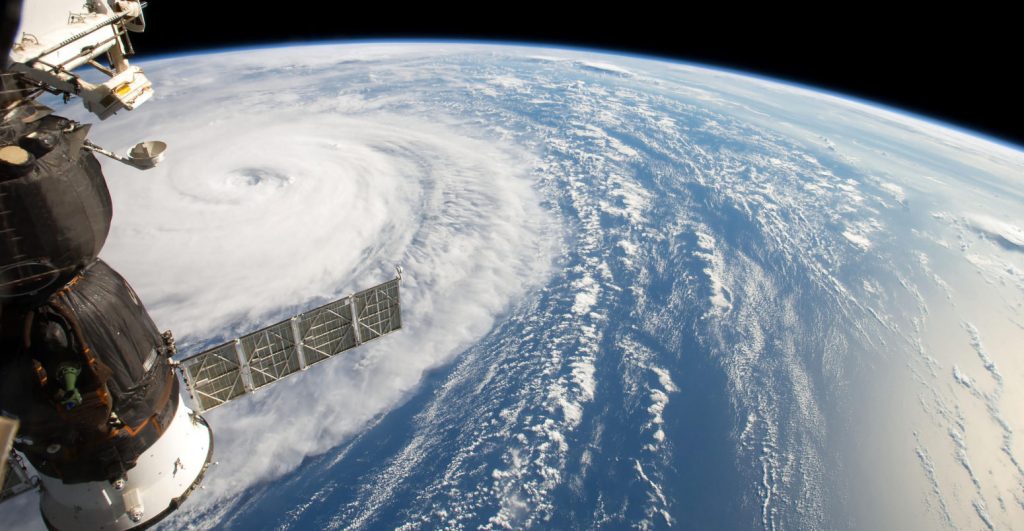 Long Term
In the long-run, areas affected by hurricanes see a significant difference in house pricing – and it's not the price decrease that buyers were hoping for.
One major cause of the significant short-term disruption to the housing market is that houses are destroyed by the hurricane, leaving less on the market. A recent study by Freddie Mac emphasizes that, "With many homes damaged or destroyed in the aftermath of the hurricanes, there will be more pressure on the already-tight housing inventory."
As discussed in our previous blog,we know that changes in supply will shift the equilibrium between house price and demand for housing. Assuming that demand for coastal houses stays relatively the same, it is only natural then that the price of houses will increase.
A slightly modified (and more likely) scenario also sees long-term price increase in houses surrounding hurricane-affected areas, but for a different reason. In this case, price appreciation is a direct result of people looking to buy houses in areas near those that were heavily affected by a hurricane, but are still located in dry and unaffected areas.
This can be demonstrated by home price appreciation in New Orleans after Hurricane Katrina in 2005. Per the Freddie Mac House Price Index (FMHPI), the annualized quarterly home price appreciation rate for homes in New Orleans went from about 11 percent in the second quarter (before Katrina) to about 18 percent in the fourth quarter (after Katrina).
After Hurricane Harvey tore through Texas in 2017, the Federal Reserve Bank of Dallas (FRBD) created a study on The Impact of Hurricanes on Housing Prices: Evidence From US Coastal Cities. In this study, the FRBD research department concludes that, "a typical hurricane raises real house prices for a number of years, with a maximum effect of between three to four percent [appreciation] three years after occurrence."
This concept is shown in the graph below (data includes coastal cities as defined in the study) :
.
Anthony Murphy and Eric Strobl of the FRBD write that, "the economic rationale for these results is that… most hurricanes reduce the effective housing stock proportionately more than they reduce the population living in the area, which drive up the real price of houses."
Thus, the paper concludes, hurricanes play an important role in the real estate market of US coastal cities.
 Photo courtesy of Washington Post.
Rentals
The rental market is impacted in a way that is almost exactly the opposite from the short term housing market. According to the National Real Estate Investor, after a hurricane, residents whose homes become damaged are forced to seek out apartments, boosting the rental market and effectively increasing demand and pricing for apartment homes.
It is common for a hurricane to result in a surge of construction connected with rebuilding efforts. That surge in demand for jobs brings in workers, who are most likely to seek out rental housing.
The higher demand for apartment rentals, however, is not permanent. A report by NREI states that two years after Hurricane Katrina, the values for apartments were down by almost 16 percent from the months immediately following the storm.
This drop in value is not unexpected, as after two years, most reconstruction is complete. After construction has been completed many workers leave the area, local residents return to their now livable homes, and the rental market slows and softens once again (NREI).
Migration
Surprisingly, migration patterns into areas that are constantly affected by tropical storms are almost entirely uninterrupted. In a study completed by The National Association of RealtorsⓇ (NAR) on The Impact of Hurricanes on Housing and Economic Activity: A Case Study for Florida, it is noted that "From 2004 to 2005, even after the unprecedented number of hurricanes, Florida gained more net new residents (263,000) than any other state."
Initially, this may be surprising information. However, upon further thought, this fact makes sense: people still want to live by the ocean, and they always will. Because of this, the ocean would be considered a very price inelastic commodity – meaning that people will always pay to live there, no matter the cost.
The housing market may fall in the wake of a storm, but long-term, this will not deter anybody from purchasing a home on the coast. This fact can be best proven by again looking at Florida's migration patterns.
From 2004-2005, Florida was rocked by eight different hurricanes all ranked above a Category Three. Despite this, every county in Florida (aside from two) saw an increase in population that exceeded the two-year national growth rate of 1.9 percent. Clearly, not even the threat of an impossibly harsh hurricane season will deter people from moving next to the ocean.
After The Storm
In the short term, hurricanes affect the sales volume in areas that are in the path of the storm. In the long term, hurricanes actually raise the real pricing of houses in coastal cities and their surrounding areas.
It is worth noting that while hurricanes are devastating to homeowners and renters alike, renters are much more affected by long-term hurricane damage than homeowners. This applies disproportionately to members of low-income, female-headed, and racial and ethnic minority households.  
Elizabeth Fussell, PHD of Brown University writes that after Hurricane Katrina, homeowners were more likely than renters to be back in their homes eight to eighteen months after the storm. "In contrast," Fussell claims, "renters were more likely to be in new homes, which were often located outside of the city and sometimes the state."
The impact that hurricanes have on the housing market is nearly unmatched. After the storm, many people are stranded without their homes and shelters. At Your Castle, we take pride in staying aware and informed of data and statistics, even in areas outside of Colorado, because you never know when it will be time to step up and help a family find their next place to call home.
If you have your own story about a natural disaster making an impact on your housing situation, let us know! We are always looking for more first-hand data.