PHOTO COURTESY OF  9News.
Tucked in Northwest Denver, the Berkeley neighborhood is a charming and lively spot that provides convenient city and mountain access. Berkeley is adorned with varied home styles and quiet streets that suit all lifestyles. With city-famous dining, shopping, and recreation, Berkeley is a true Denver gem (source).
LOCATION MAP WITH BOUNDARIES: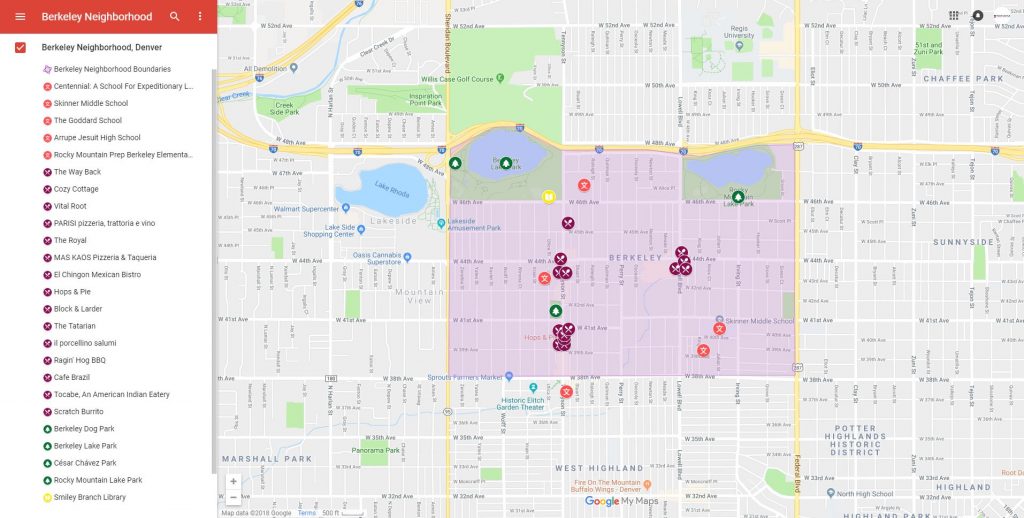 For information on active listings in the Berkeley neighborhood, contact a Your Castle listing agent.
NEIGHBORHOOD ATTRACTIONS
Every first Friday of the month Berkeley hosts one of the best Art Walks in Colorado. Galleries, bars, restaurants and boutiques along Tennyson Street (and beyond) open their doors to hordes of art gazers in search of art, music, culture, and inspiration! The art walks serve as the perfect opportunity to grab dinner and drinks with some friends and immerse yourselves in some of the best cultural arts found in Colorado.
​
HISTORIC ELITCH GARDENS THEATER
Currently under renovation, the Historic Elitch Gardens Theater opened in 1890 and was home to the first movies shown in Denver in the early 20th century. It was frequented by many of the day's greatest actors, and because of the large volumes of people it drew it played a significant role in building the Berkeley neighborhood you see today. Click here to learn more about the renovation project and volunteer!
​
Lakeside arose in 1908 in contention with Elitch Gardens where alcoholic beverages were not permitted. Lakeside offered alcohol and thrill rides- an obvious draw for people all over Colorado and yet another great contribution to the Berkeley neighborhood. Lakeside still opens its gates to thrill-seekers every year from May to September. Visit their SITE for more information on hours and ticket prices. (Source: Explore Tennyson)
SCHOOLS:
PARKS & OPEN SPACE:
LIBRARIES:
TOP RESTAURANTS/BARS:
FUN FACTS:
The first homesteads in the Berkeley area were granted in 1863.
The town received its name in 1898 from the alfalfa farm Berkeley Farms, after changing its original name of the Town of North Denver (given 1892).
The first movies shown in Denver were screened at Elitch's.
AVERAGE COMMUTE TO DENVER: 14MIN
AVERAGE COMMUTE TO VAIL: 1HR 38MIN
HOA INFO:
Berkeley Neighborhood Association
4420 W. 52nd Place
Denver, CO 80212
Contact: Wendy Rudden-Carter
Do you live in Berkeley? Where is your favorite place to spend time in your neighborhood?
Interested in moving into Berkeley? Contact a Your Castle agent today for active listings in the area!