Separating emotion from business is often a difficult task for retail buyers and sellers in the world if real estate. The goal of this post is to allow you, the reader, to eliminate emotion from the equation and focus solely on Denver's Q2 stats so that you can make well-informed and intelligent home buying and selling decisions throughout the latter half of 2017.
Inventory
First and foremost is the ever important question of supply and demand, economics 101. A normal market — that is, one that doesn't favor neither buyers nor sellers — has six months of inventory. This means that for every 180 buyers, there are 180 homes on the market (taking into account that 6 months is roughly 180 days). Currently we are sitting at just under 2 months of inventory in and around Denver. Using the theory presented, this means that there are less than 60 homes available for every 180 buyers.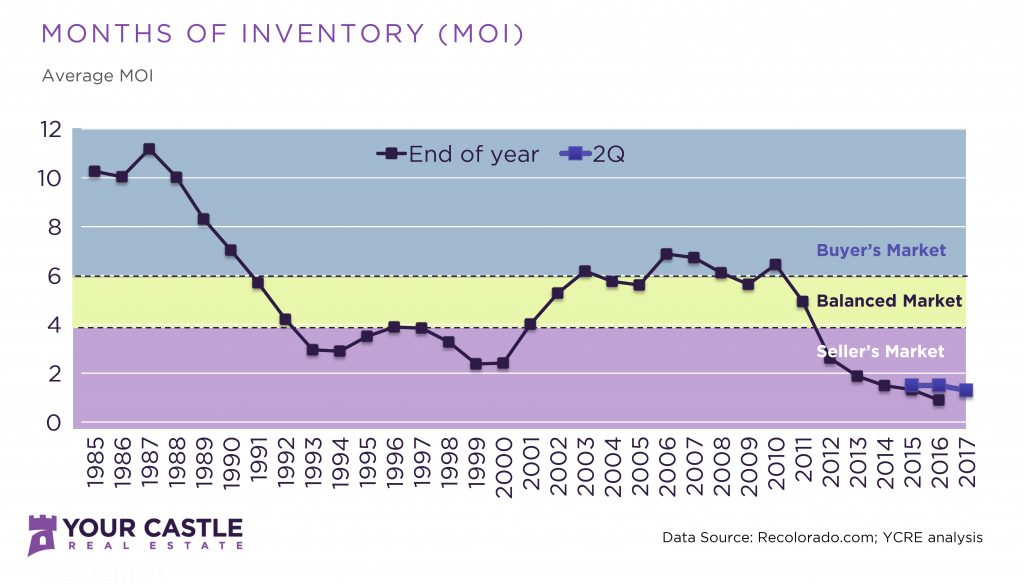 Buying vs. Renting
Both rental and home prices have been driven upwards radically over the course of the last 4 to 5 years. The question of whether to rent or buy when considering affordability is one that many, especially millennials, grapple with constantly. Sure, there are numerous unique variables that each individual, couple or family must look at before making the decision to jump into the housing market. Though as we remember from our grade school science classes, every experiment includes both a variable and a control. The chart below acts as the control, as historically rents around Denver have grown at the same pace as property prices. This is especially true from 2012 to today.
Showing Traffic
Always a Your Castle favorite, showing traffic is a telling metric that shows the average number of showings listings receive each month. A quick glance at Denver's Q2 stats chart below clearly shows that showing traffic has remained fairly consistent, both month over month and year over year, since 2012. (Take the anomaly of April 2016 away and the lines run nearly parallel.) Another important takeaway is the seasonality in the market. The first half of the year continues to dominate the second half the year, and just as showings are highest from February through June, year after year most appreciation is seen in this same five month time frame.
Fueled by talk of a bubble, the atmosphere around real estate is increasingly being filled with doubt. Naysayers need only to see these charts. Numbers are universal. They have the uncanny ability of being honest 100% of the time. Right now Denver's Q2 stats are telling us, as they have for the past four years, that the Denver market remains hot with no signs of slowing.